Well this has been a long time coming. After working with many different clients over the years and dealing with a lot of production houses to get video work done for clients we made an investment into the gear and knowledge necessary to produce television commercials for our clients in-house.

Working with Electrik Image Spa over the last several months we produced our first television commercial which is being aired in the Detroit market on Comcast's cable television.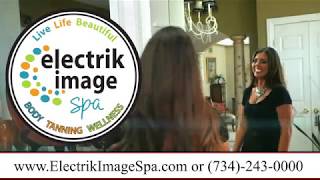 ​​We worked directly with the owner of the company to develop a sort of play on Snow Whites "mirror mirror on the wall". The commercial was designed to have a cinematic look, in the beginning, to grab peoples attention then go into the commercial from there.

In casting for the parts of the commercial we worked with an actress that was a stand-in for the Superman Vs. Batman movie as well as some of the staff at Electrik Image.

We had a makeup artist on-site the day of the shoot to give our actresses the looks we wanted and to touch up makeup throughout the day.

The entire commercial was shot in just one day and produced in under a week to meet the deadline this client required.